Top 10 Beginner-Friendly Book Nook Kits to Ignite Your Creativity
Are you a book lover with a passion for crafting? If you haven't ventured into the enchanting world of book nooks yet, it's time to embark on an imaginative journey!

Book nook inserts

are delightful miniature scenes that fit snugly on your bookshelf, transforming your reading corner into a captivating wonderland. Whether you're a novice crafter or just starting your creative pursuits, book nooks offer a delightful and rewarding experience. To help you begin this magical crafting adventure, we've compiled a list of the top 10 book nook kits specially tailored for beginners. Let your creativity take flight with these enchanting and accessible kits that will spark joy in your heart.
10 Book Nook Inserts For Beginners
As our top recommendation, the Sakura Densya Miniature House Book Nook is a perfect starting point for beginners. With its charming Japanese setting and straightforward design, this kit allows you to create a tranquil scene inspired by the beauty of cherry blossoms. You'll be amazed at how quickly you'll fall in love with the art of book nooks as you craft your own serene retreat.
All aboard the 1940 Train Cabin Book Nook! This unique kit takes you on a journey through time, back to the golden age of travel. As a beginner, you'll appreciate the simplicity of this kit while crafting a cozy train cabin scene, complete with vintage luggage, railway maps, and the allure of a bygone era.
For bookworms who adore the cozy atmosphere of bookstores, the Eternal Book Store DIY Book Nook is the perfect choice. Craft your very own mini library, complete with tiny books and inviting reading spots. This kit offers beginner-friendly materials and step-by-step guidance to help you create a haven for your literary adventures.
The Sailing Memory Book Nook takes you on a nostalgic voyage, capturing the serenity of the open sea and the thrill of adventure. As a beginner, you'll appreciate the simplicity of this kit while reveling in the joy of crafting a tranquil coastal scene with a tiny sailboat gliding gracefully across the water.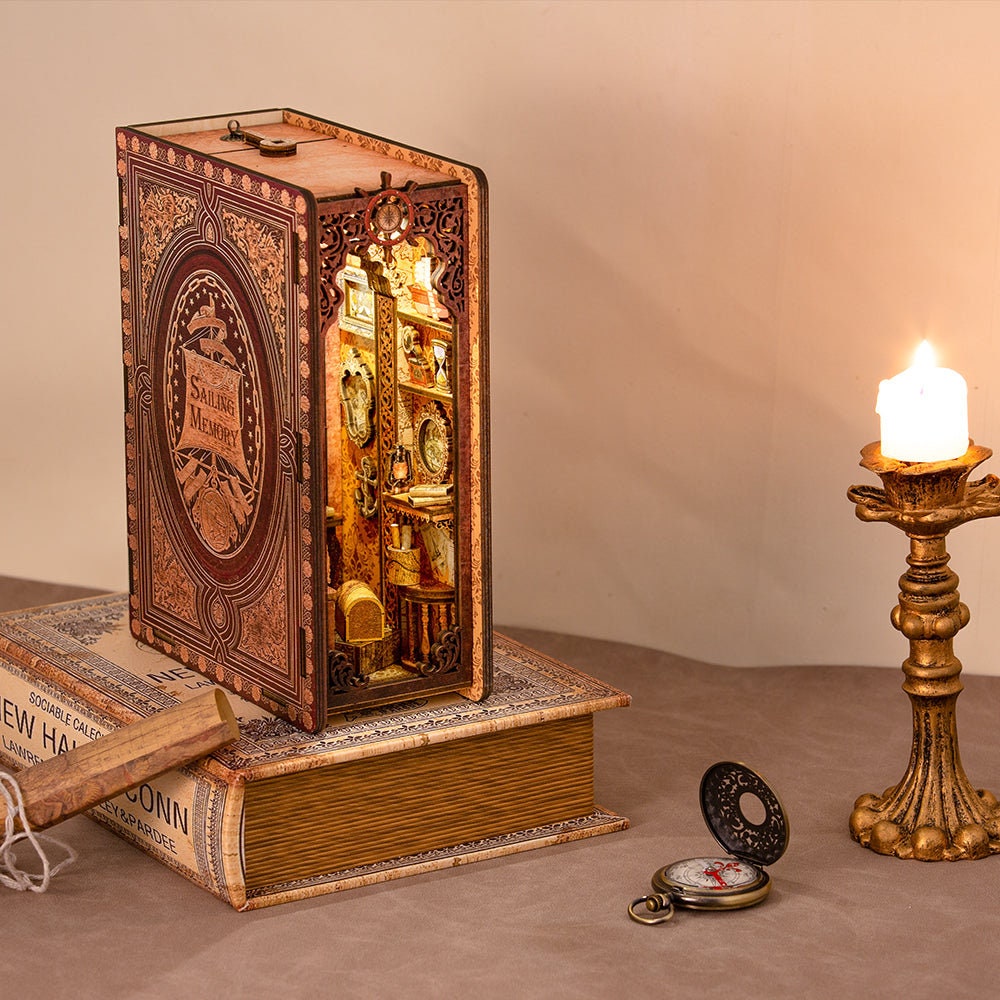 Embrace the wonders of imagination with the Butterfly of Unknown Lands Book Nook. This ethereal kit features mystical butterflies and fantastical flora, making it an excellent choice for beginners who wish to immerse themselves in a magical realm of creativity and mystery.
Celebrate the holidays all year round with the Holiday Garden House Book Nook. This delightful kit invites you to design a festive cottage adorned with blooming flowers and seasonal decorations. As a beginner, you'll find joy in the simplicity of this kit, allowing you to revel in the spirit of various celebrations.
Step into a world of enchantment with the Magic Pharmacist Book Nook. This spellbinding kit takes you on a journey through potion-filled shelves and mystical elements, perfect for beginners who love fantasy themes and wish to experiment with magical crafting.
Capture the ephemeral beauty of cherry blossoms with the Falling Sakura DIY Book Nook. This kit lets you celebrate the changing seasons with delicate pink petals cascading gently. As a beginner, you'll find joy in this kit's simplicity while being able to create a scene that symbolizes the fleeting nature of life.
Unleash your imagination with the Elven Paradise Book Nook, where mythical creatures roam freely in a lush forest. As a beginner-friendly kit, this enchanting scene allows you to craft a captivating world of fantasy and adventure, making it an ideal choice for those who dream of exploring mythical realms.
Rounding off our top 10 list is the Magic House Miniature Book Nook Shelf Insert. This bewitching kit revisits the beloved Sunshine Town with a smaller version that's perfect for beginners with limited space. Get ready to infuse magic and whimsy into your bookshelf as you embark on this creative journey.
Conclusion
These top 10 book nook kits cater to beginners, providing all the necessary materials and step-by-step instructions to make your crafting experience enjoyable and rewarding. Embrace your creativity, dive into the world of book nooks, and watch your bookshelf transform into an enchanting haven of imagination and wonder. Happy crafting!
---